When we take over your kitchen, people often say they feel guilty for not doing anything. We say, GOOD! Let LittleCooks do all the work for you. You don't even have to clean up! You'll wonder why you've ever done your own! For more information about how we can help you customise a party or to book a party today, give us a bell. Check out our party options below.  Please note: all participants must be vaccinated.
1 1/2 HOUR CUPCAKE AND FONDANT TOPPER PARTY
By far, our most popular party!
During this party we make, bake & decorate beautiful cupcakes and buttercream icing, and get creative making a fondant topper to match the theme of the party! That might be Unicorns, Mermaid tails, Pandas, Foxes, Princess faces, flowers or whatever your child's favourite thing is! This party suits girls and boys. We use piping bags and Wilton tips to put it all together!
Cost: $330 + gst
2 HOUR PAMPER PARTY
Your guests will arrive with their dressing gowns in hand, and will get to pretend they're in a spa in your home! Kids will start by making cupcakes, and while they're in the oven they will apply mud masks and cucumber slices to each other, and we'll make a sweet sugar scrub.
The kids can get creative by making a fondant topper and will finish by decorating the cupcakes! This party takes a bit longer, 2 hours.
Cost: $380 + gst
1 1/2 HOUR PIPING BAGS AND BUTTERCREAM PARTY
​At this party, we'll bake cupcakes, but our main focus will be learning to make the best Buttercream Icing on the planet. We'll teach you how to colour it, fill the piping bags and you will learn different techniques to create beautiful buttercream flowers! Fondant is optional. This is an hour and 1/2 long party as well.
Cost: $330 + gst
Optional Party Take-home extras:
– Wilton Tips/piping bags
– Decorating kits
– Cupcake boxes
– Chef hats
1 1/2 HOUR PIZZA SELFIE PARTY
Have you always wanted to teach the kids how to make their own pizza? Get a group together and have some fun with it! Make your own dough, and decorate it like your face, or better yet, like your best friend's face! Make refreshing Smoothies and dig in to your newly cooked feast. Create a competition and get certificates to boot!
Cost: $330 + gst
PRICE:
With the exception of the Pamper Party (2hrs), all other LittleCooks parties are $330 + GST and include:
9 guests + birthday girl/boy (10 in total), $22 per child thereafter
90 minutes party (unless specified)
We bring all ingredients/ cookware/tablecloths and bunting
2 LittleCooks Staff to arrive 45 min prior to the start of the party to set up, will run the party, then clean up!
Client is to provide cups, plates and napkins, other party food, and a lighter for candles
Terms and Conditions:
Cost of the venue is to be paid by the customer if not at home.
​If the party is a considerable distance away, we may charge an extra fee to cover mileage.
Deposit:
A deposit of $50.00 must be paid to secure your child's party. Your deposit is non-refundable. All fees must be paid within 7 days of receiving the invoice.
Need Party Supplies?
Need gorgeous paper plates, napkins, straws, or specialty balloons for the party? Check out our friends at Pop Roc Parties and order for delivery or LittleCooks can pick it up for you!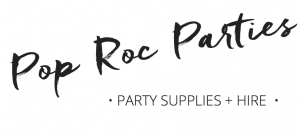 Allergies or intolerances
We understand how hard it is to have allergies or intolerances – so do accommodate them and want to make the party perfect for your child. However there will be an extra surcharge to cover the more expensive ingredients associated with this. Extra cost will be discussed on a case by case basis as allergies differ.